The DW Foundation - Dream. Believe. Work. Now Finish!


The mission of The Dereck Whittenburg Foundation is to extend the hands of financial assistance to deserving college students that find themselves facing the hindrance of finance as the barrier to their completion of college degrees. The mantra of The Foundation is "Dream. Believe. Work. Now Finish!"

View Website: http://www.thedwfoundation.org
Jimmy V's Osteria and Bar opens in Raliegh, NC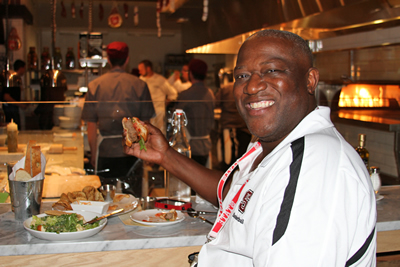 Dereck eating the Whittenburger at the New Raleigh restaurant
Jimmy V's Osteria + Bar is a unique and modern restaurant created with Jim Valvano's passion and commitment to excellence, and a percentage of the restaurant's revenue will be donated to the V Foundation. Jim Valvano's love for food is the influence behind our menu creation featuring local and seasonal dishes with an emphasis on delicious Italian/American down to earth and traditional comfort foods using local farm grown ingredients and straightforward preparations. Also, we are excited to announce the arrival of our new Executive Chef, Michael Kuilan. Michael joins us with 15 years of experience as a trailblazer in the kitchen. His refined culinary and managerial skills have been instrumental to the design and successful openings of numerous restaurants in the local Raleigh area.

Address: 420 Fayetteville Street , Raleigh, NC 27601
Website: http://www.jimmyvsraleigh.com
Survive and Advance - ESPN 30 FOR 30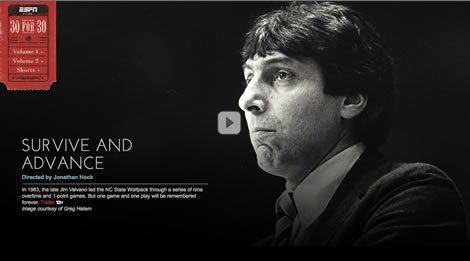 Welcome!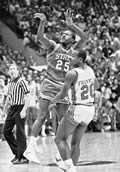 Welcome to the Official Website of Dereck Whittenburg!
Dereck Whittenburg is a former head men's basketball coach, most recently of the Fordham University Rams. Prior to coaching at Fordham, Whittenburg served as the head coach of the Wagner Seahawks.

Whittenburg is perhaps most famous for being a member of the NC State Wolfpack team which won the 1983 NCAA national title. Whittenburg threw up the famous high-arching airball that Lorenzo Charles grabbed for the game-winning dunk.
NC STATE BASKETBALL

Dereck Whittenburg, who achieved national prominence as a star guard on NC State's 1983 national championship team, returned to his alma mater in the fall of 2013 as Senior Assistant to the Head Coach/Director of Player Development. In that role, he serves as a mentor for the Wolfpack and assists with player development. read more
RECENT NEWS
Dereck Whittenburg Commentator
Men's College Basketball Analyst "Whittenburg joined ESPN in 2010, and works studio on ESPN networks, along with Buzzer Beater and select games on ESPNU. Whittenburg can also be heard on ESPN Radio. Whittenburg spent seven seasons as the head coach at Fordham. Prior to that, he coached four seasons at Wagner (1999-2003), earning two postseason [...] read more
Survive and Advance
The film survive and advance a 30 for 30 ESPN production first premiere at nc state Monday the March 11th at 7 pm. read more
Speaking Engagements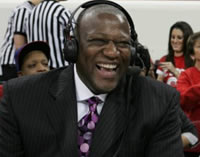 Dereck Whittenburg has a special gift of gab. From college sports commenting to documentary films. Email contact@coachwhittenburg.com to get him to speak at your next event.